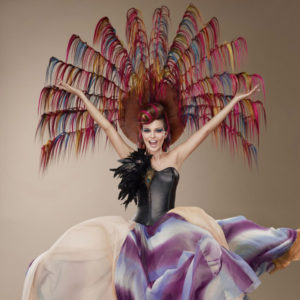 BRACAZILLY is a fusion of the Brazilian Carnavale merged with liveliness of the 1950s as projected by Rock and Roll. It shows a lot of creativity in terms of hair style, costumes, make up and influences and depicts the frivolity of youth.
As one of the main attractions of Brazil, the Carnavale is full of joyful attributes such as costumes with long feathers. This attribute will be combined with the trendy taste of Rockabilly. Featuring vintage Rock and Roll styles and Elvis Presley — Rockabilly leaves a sense of familiarity even to those who don't understand music. Rockabilly actually stands for 'rock' from rock 'n roll and 'hillbilly' or country music, illustrating the adjustment between the two. The highlight of the hairstyle in this era is short curly hair or longer hair with straight voluminous short fringe (imitating popular model Betty Page) for women and slicked-back greasy hair for men.
The cheerfulness of the Brazilian Carnavale and the classic yet funky sense of Rockabilly are united in BRACAZILLY Haute Couture hairstyle. The long fringe is styled with volume with similar touches as those of Betty Page, while the rest of the hair remains straight but extended with festive-like ornaments resembling the costumes of Brazilian Carnival.