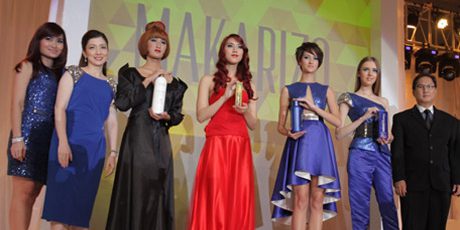 As a market leader in hair straightening category, Makarizo's range of products has been used in more than 50,000 salons in Indonesia. It has also been distributed across Malaysia, Singapore, South Korea, Mongolia, Middle East, Australia, and the United States. The pioneer brand Makarizo Rebonding System that was first started back in 1980 is 100% ammonia-free and contains milk protein that keeps hair straight and soft. More than 3.5 million pots of this product are sold every year.
Now with new innovations from years of research, the company introduces Maxi Smoothing, complementing its hair straightening product portfolio. It is also 100% ammonia-free, making it safe to use for both hairdressers and consumers. It has a soft floral fragrance compared to other existing products in the market. Three variants are available for specific hair types: for virgin/resistant hair, for chemically treated hair (non-bleached), and for damaged/sensitized hair including hair that has been bleached.
Different from Rebonding System, Maxi Smoothing restructures the hair with a more natural straightness in only 30 minutes. Hair becomes straight, smooth and easy to style. Such a great result is derived from the combination of the SMART SMOOTHTM technology and natural ingredients including keratin, grape seed extract and soy protein.
Quick Processing Time – Great Fragrance – Natural Ingredients
SMART SMOOTH™ technology was developed in  Makarizo laboratories, makes it possible to have a 30-  minute processing time without elasticity check.  Therefore in the application process, there will be no over-processed or under-processed hair, making it more effectively used by any hairdressers. The overall process takes 3 simple steps each with active natural ingredients.