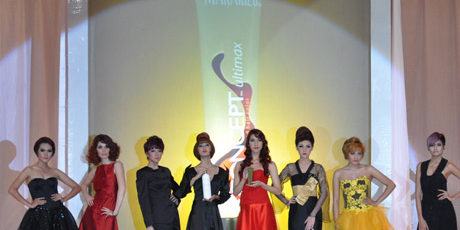 Prominent hair colorant Makarizo Concept has been providing hundreds of long lasting shades that make women's hair shine with health. With the most updated technology available, now Makarizo Concept brings the best of new hair colorant Makarizo Concept Ultimax enriched with nutrition to give the perfect shine to hair while keeping it soft and healthy.
A result of collaboration between Makarizo and Italian beauty experts, Makarizo Concept Ultimax is the answer to anyone who are eager to use hair color that is long lasting and leaves hair shiny and beautiful. This made in Italy product combines technology and natural ingredients to lock in the color and give nutrition so that it stays healthy and shine.
Rich Color, Long Lasting, Hair Shines with Health
KR+8, a formula of 10 natural ingredients is incorporated in Makarizo Concept Ultimax as it gives nutrition to the hair for a long lasting color on healthy shiny hair. The formula is combined with micro crystal pigment technology that maximizes color pigment penetration to hair strands, particularly the cortex, resulting in perfect color that shines and is long lasting. The 10 nutritive ingredients include:
Argan oil, leaves hair soft and shiny
Rice protein, moisturizes hair and brings more elasticity as well as strength to hair
Wheat protein, protects, gives strength, and regenerates hair
Keratin, fixes damaged hair and helps absorption of vitamins
Panthenol, protects hair and gives shiny effect
Silk amino acid, protects hair color to keep the shine
Vitamin complex (B5, E, C), serves as antioxidant for sun protection
Green tea, helps to prevent hair loss and restore hair growth
Chamomile, helps to prevent hair loss and give shiny effect
Aloevera, helps to prevent scalp irritation and revive hair follicles' structure
Makarizo Concept Ultimax encompasses 85 shades which extend from regular colors (0 Natural, 1 Ash, 2 Violet, 3 Gold, 4 Copper, 5 Mahogany, 6 Red) to special colors (Extralift, Correctors, Natural Shine, Contrast). In addition, it also offers Cream Developer that easily blends with Colorant and is enriched with coconut oil that makes hair soft and shiny. Soft texture of the Cream Developer keeps hair's elasticity and health without the strong odor.