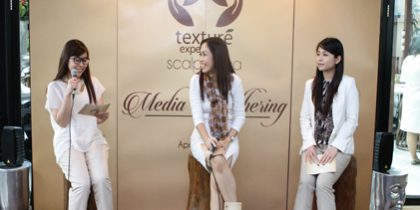 Activities and jam-packed daily routines force us to stay healthy and also pretty. In addition, mood issue can break our concentration which may lead to disturbance in activities. In order to prevent bad mood, there is one viable solution that is easy to find: Scalp Yoga treatment.
Earlier in mid-April, Makarizo's brand platform Texture Experience released a new technique called Scalp Yoga. The launch was held in Odysseia, Pacific Place and was attended by a number of Editors in Chief and beauty editors of renowned magazines in Jakarta.
This unique event was conducted while reflecting on the uniqueness of Texture Experience, as said by Ferina Hartanti the Brand Manager of Texture Experience and Honey Dew. "All the invitees were asked to fill a check-mood book. After that, we gave a set of menu starting from main course, appetizer, until dessert according to the result of the previous check-mood. If the mood shown was 'need relaxation', the menu given was related to green tea, then for the treatment, (the guests) were given Texture Experience Green Tea Butter," she said.
Texture Experience comes in 6 different variances which are effective to lift positive mood. The unique thing is that each variance is different regarding the head massage technique. "Because of this unique technique, we cooperate with professional salons to introduce a new treatment which is unique and able to boost positive mood after receiving treatment. We have seen that development of treatment in Indonesia is limited to what we know as common massage without even knowing the benefits of the massage. One of the salons that cooperate with Makarizo is Gorjes Salon. Hopefully, in the future, Scalp Yoga technique would be accepted by the public and become a treatment chosen while coping with bad mood", said Ferina.