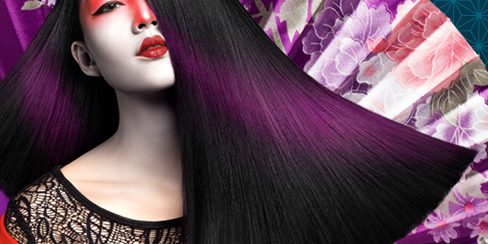 Talking about Japan, you cannot leave out the iconic things associated to this so-called 'Asian Tiger': Its fusions of culture and forms of entertainment. These both set the trend to be followed by the rest of the world. Those who crave fashion may already be familiar with 'Harajuku', an area which becomes the heart of contemporary youth culture as it is full of eccentrically fashionable young adults. Meanwhile, there is 'Kabuki', a classical form of Japanese theater which involves a unique mix of acting, singing, and dancing. In spite of being considered old-fashioned, Kabuki remains popular up to now while still reflects its ageless elegance.
With modern Harajuku and classic Kabuki comes HARABUKI STRAIGHT, Makarizo's revolutionary technic combining hair straightening and coloring process in just one salon visit. HARABUKI STRAIGHT fuses between the eternal beauty of straight black hair just as Kabuki and shocking colors with asymmetrical haircut resembling the peculiar Harajuku style. With 2 processes merged into 1, your client does no longer need to wait 2-4 weeks just to get both done.
To begin with, you need to check client's hair to see whether the process is doable or not. If it is, the process starts with an application of pre-service treatment to the hair. It is continued by a pre-lightening process with bleach powder and developer to sections of hair. The next step is to straighten client's hair using the 100% ammonia-free Makarizo Rebonding System Step 1 cream enriched with Hydrolyzed Keratin and Collagen, followed by flat-ironing using Makarizo's straightening tool made particularly for this process. Then mix Makarizo Concept Ultimax, Cream Developer, and Milky Neutralizer and apply the mixture to bleached hair parts. To finish, apply Makarizo Honey Dew Nutriv Serum and style hair as desired by client. Not only is stylish, but your client's hair will be healthy in shine.