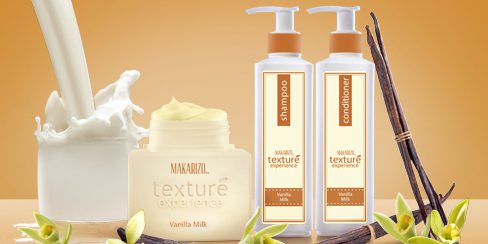 When hit by a storm of activities, sometimes comes to our mind the desire to be on a trip to see the beauty of nature while relieving fatigue. That is why nature-related recreation objects are roamed by people on holiday. Relaxation is indeed a necessity especially for those who work under pressure. However, in the middle of jam-packed schedule and piling-up assignments, it would be difficult to realize the dream trip. Based on that case, Makarizo, on its attempt to always comprehend and fulfill the necessities of Indonesian women, released the newest signature massage Texture Experience Scalp Yoga as a part of Makarizo Texture Experience Hair and Scalp Treatment.
In addition to the natural healthy ingredients contained by Makarizo Texture Experience Hair and Scalp Treatment, this range consisting of shampoo, conditioner, and cream is also completed with various pleasant fragrances; one of which is Vanilla Milk. This fragrance will merge with the four steps of Scalp Yoga which are:
Stretching (Grivasana), gives comfort and sense of being relaxed to clients before the massage.
Acupressure (Hastagrasana), helps improving blood circulation and also relaxing mind .
Scalp massage (Mastakasana), focused on scalp area. Performed softly, gently, and rythmically.
Pressure points (Viropana), the massage is focused on certain points on head to maximize the psychological effects of Texture Experience products
Specifically, Scalp Yoga Vanilla Milk will be combined with massage on shoulders area where there are neuros that affect mental condition and emotion resulting in a calming effect.
Now, you can enjoy relaxation without having to go on a trip. Feel the benefits of Texture Experience Scalp Yoga at Salon GORJES Pacific Place and GORJES Senopati Jakarta and expect it soon at your favorite salons!